Report: Update In the Tri-Site Area

(0)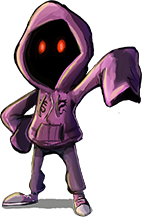 VGR NEWS NETWORK
Hello and welcome again to The Textures Resource. This is your news anchor, Shade Shadeson, with another special news alert.
Reports just in of Kingdom Hearts Re:coded rips making a ruckus right outside my update box here. Keep an eye out for those. Additionally, we have eyewitness reports of Bomberman Jetters, Bloons Adventure Time TD, 3D Maze Man, Fallout, Backyard Wrestling, and MySims, as well as a good number of other things spotted.
Further announcements will be made as we receive them. Website traffic is likely going to be a little dicey so be extra cautious on those beautiful, interconnected pathways of the VG Resource network, especially as you travel over to The Spriters Resource and The Sounds Resource for two other awesome updates.
In more site related news, the VGR staff for a while now have been wanting to adopt a more consistent update schedule across the network, as updates outside of tSR aren't quite as frequent as they could be. Because of this, the schedule works as follows: Sprites will be updated every week, as per usual, while Models, Sounds, and Textures will receive updates on the first Saturday of every month (hence why they're getting one today!) We hope this will make showing off our new content flow a bit better.
That's all for today - have a good one!