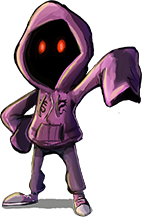 Hey folks! It's update time again, and you know what that means, right? Me describing the update content! I'm just as excited as you are, so I'll get to it immediately!
Today, we have rips from Persona 4 Arena Ultimax, Half-Life, Garfield Kart, Tornado Outbreak, Finding Nemo, and Guitar Hero, as well as quite a few other cool things! Be sure to check it all out! I bet high-quality money textures that you'll find something interesting!
And that marks the end of me describing the update content, which also prompts my leave, so enjoy the update and catch ya later!