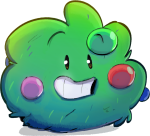 Howdy, everyone! RTB here's for the second time in a while, I've been tagged out to bring you this month's update.
Lots of goodies this month (partly due to last month being skipped), including but certainly not limited to a bunch of Roblox (plus totally-not-Roblox Brick Hill) from
thatmusicweeb
, Minecraft Earth rips from
SuperPupperDoggo
, LittleBigPlanet rips from
deerly beloved
, Grand Theft Auto rips from
Durtvan
and similarly a bunch of World's Scariest Police Chases rips from
Dedok179
, Crash Team Racing rips from
Superstarxalien
, Tekken 2 rips from
Markee
and tons of Mario, Wario but not Lucario rips from
DogToon64
. And many, many more!
And with that, The Textures Resource's queue is all quiet, just in time for the holidays (in exactly three weeks from now). Until next time...
3DS Textures: 5
Browser Games Textures: 6
Dreamcast Textures: 1
DS / DSi Textures: 7
GameCube Textures: 8
Mobile Textures: 68 (50 shown)
Nintendo 64 Textures: 1
Nintendo Switch Textures: 91 (50 shown)
PC / Computer Textures: 177 (50 shown)
PlayStation Textures: 87 (50 shown)
PlayStation 2 Textures: 17
PlayStation 3 Textures: 115 (50 shown)
PSP Textures: 6
Wii Textures: 8
Wii U Textures: 41
Xbox Textures: 1
Xbox 360 Textures: 1