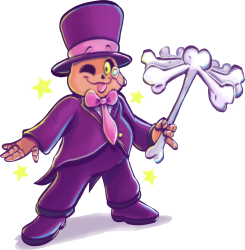 Hey, guys! I'm back, and this time I've got a surprise update for y'all! That's right, we've amassed
over 400 textures
this past month! Amazing!! Great work, everyone!
A lot of that is a result of
Weed666942
's POSTAL and Shrek series rips, as well as all the other odds and ends they did, and let's not forget
Models124717
's Showdown Bandit load! Woohoo!
Not only that, but other sizeable contributions come from none other than me (
Garamonde
) and
ThatTrueStruggle
submitting Zatch Bell,
SuprRooster
's Kirby: Planet Robobot rips,
Gothic_Luigi
's Ben 10: Omniverse 2 content, and finally I wanna make note of
BLINXGLITCHES
' The Polar Express rips. It didn't occur to me that the GBA could handle 3D models and have extractable textures, at that. Good going!
Well that about rounds things up from me, hope this update was worth slogging through those smaller ones! And what a way to end the year! If you celebrate, happy holidays and we'll see y'all in 2023!!
3DS Textures: 41
Arcade Textures: 2
DS / DSi Textures: 1
GameBoy Advance Textures: 4
GameCube Textures: 42
Mobile Textures: 17
Nintendo Switch Textures: 3
PC / Computer Textures: 272 (50 shown, 9 hidden)
PlayStation Textures: 2
PlayStation 2 Textures: 1
Wii Textures: 29
Xbox 360 Textures: 1