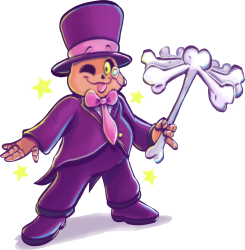 Hey texture fans (totally didn't steal and modify that line from Tonberry2k)! We have a slightly larger update for you this month, at 159! We got some goodies here, such as Mario Party, Super Monkey Ball: Touch & Roll, Castlevania, Lethal League: Blaze, Re-Volt, ROBLOX, Ultraman, and of course, more!
Oh yea, and the title comes from the fact that the CVS I work at is putting out Halloween candy already. Probably other places, too. :p
Also, my birthday is this month, on the 21st! I'm gonna be a quarter-years old (not a quarter of a year)!
Okay, that's enough about that, have a great rest of your dog days of summer!
3DS Textures: 2
Arcade Textures: 6 (3 hidden)
DS / DSi Textures: 5
GameCube Textures: 9
Mobile Textures: 6
Nintendo 64 Textures: 2
PC / Computer Textures: 100 (50 shown, 3 hidden)
PlayStation 2 Textures: 2
PlayStation 3 Textures: 1
PSP Textures: 24
Wii Textures: 2