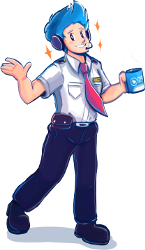 ♫
Rule number one... is that you gotta have fun!
♫
Heya, PNG fans! Welcome to 2021's version of September! Will this be a filler episode, or a plot-twist filled international phenomenon? Only time's gonna tell, after all – Happy Labor Day weekend, by the way!
So, the games with the most auditions this month have come down to:
#1. Minecraft Earth
#2. New Pokémon Snap
#3. Carmageddon II
There's a ton of Mario-related textures in general, too! They all span across many different games; it'd be kinda unfair to just list 'em all at the top, heh. And who would've thought that one of our staff members would pop up in here as
an actual submission
themselves? Major thanks to
blueberrymuffin
for ripping a majority of the Mario Party assets featured in this update as well!
Just think, "What would dodos do?" Stay fresh, and stay off the hook!
3DS Textures: 5
GameCube Textures: 19 (3 hidden)
Mobile Textures: 33
Nintendo Switch Textures: 41
PC / Computer Textures: 23
PlayStation Textures: 1
Wii Textures: 186 (50 shown)
Wii U Textures: 15