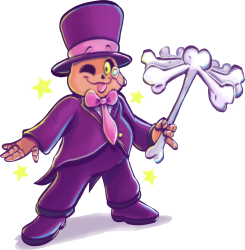 yawn
Hello Texturers! This one's gonna be a quicky 'cause I am quite sleepy.
The major bigguns include:
~Pokémon Mystery Dungeon: Rescue Team DX by
Nidoking
~Brick Hill from
thatmusicweeb
~Cosmonious High by
RiffyDiffy
~Railroad Tycoon 3 from
eldomtom2
~Textures from 2 Godzilla games by
All Things Gaming 6
~Finally, Chuck E. Cheese's Sports Games courtesy of none other than
blueberrymuffin
!
Thanks y'all for your continued contributions and we'll (well I won't, but someone will) see y'all next month when Summer starts kickin' in!
Browser Games Textures: 7
DS / DSi Textures: 2
GameCube Textures: 5
Mobile Textures: 13
Nintendo 64 Textures: 2
Nintendo Switch Textures: 199 (50 shown)
PC / Computer Textures: 54 (50 shown)
PlayStation Textures: 1
PlayStation 2 Textures: 45 (2 hidden)
Wii Textures: 36
Wii U Textures: 1