Twice as Nice
(0)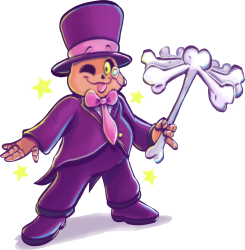 Good day to you all! I really think TTR deserves an update, don't you? Well it's finally here, after 8 long months! Incredible! Even I can't believe it! Do you know what this means? It means that I am the new moderator of the Textures Resource as well as the Sounds Resource! It certainly keeps me busy managing submissions for both, as well as uploading to TSR, but someone's gotta do it!
Speaking of TSoR, go check it out! As you may have guessed, I've posted an updated there as well! Sometimes there is such a thing as magic! :D
On top of all that, this is, what I believe to be, the largest update that TTR has ever had! Amazing! Talk about a comeback! And if THAT weren't enough, I think my update for TSoR is ALSO the largest that its ever had! I hope you're all as excited as I am to finally see both of these Resources rise from their graves and come back so strongly, because I've certainly enjoyed uploading all of this wonderful content from all our fantastic submitters!
Until next time, I promise that it won't be nearly as long until the next update for both TTR and TSoR, so you guys can be sure that the new future for them is bright! :D