Stars & Stripes, and These Textures Are... Ripe?

(1)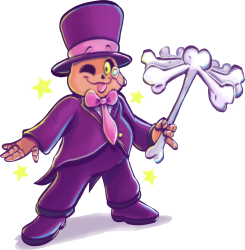 Hello again, texturers! Your friendly neighborhood revenant is back to bring you a handful of new ones right before the 4th! What're your plans (if you celebrate it)? If I'm lucky, I might get to eat some cookout food... But we'll see! Having said that, let's see what new content our submitters have cooked up for us as well!
This time, we've got:
~Don-Chan from Mario Kart Arcade GP DX from
Sploo
~Some FusionFall Heroes by
FinnFazhog
~Kururin Squash! and Mario Party 6 courtesy of
blueberrymuffin
~A few Shadow the Hedgehog textures from
mothsoot
~Some Crash Bandicoot Nitro Kart 3D by
teh_supar_hackr
~A variety of things brought to us by
DogToon64
, such as a GameCube from Sonic Adventure 2: Battle, a couple characters from LEGO Star Wars: The Yoda Chronicles, a character and a prop from Epic Mickey, and finally a tasty pancake from WarioWare: Smooth Moves
~The title and game over screen textures from Super Mario 64 (how did we not have that yet?) from
CC2.0
~The skyboxes from Mario Kart 8 Deluxe, courtesy of
I Want The Goods
~Some playing cards from Blacksad: Under the Skin by
Smakkohooves
~Everything from 1.19: The Wild Update from Minecraft: Java Edition, brought to us by
Askywalker
~Some characters from Supercow by
Dvuediniy
~A coin from Bomberman Kart by local fellow Bomberman enthusiast,
SteamyJ
~Some Shin Megami Tensei V by
Squiddleton
~Some characters from Crash Bandicoot Nitro Kart 3D by
teh_supar_hackr
~And finally, some Dead or Alive 4 stages by
sheikproject
Whew! That was more than I thought for only having 112 submissions! Thanks to all those who still keep TTR relevant and we'll see y'all next month!