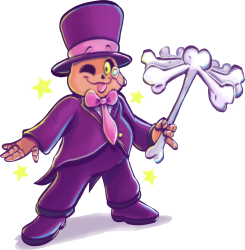 Hey y'all, it's me, your friendly neighborhood revenant back again to bring ya this month's... monthly Textures update! It's honestly not much, but hey, when there's not much traffic, that's how it be. Still, thanks to everyone who DID contribute! Every submission matters!
So, given this won't be a big update, let's go ahead and name some stuff off, shall we? This time in regards to some shout-out picks, we've got Photos with Mario by our own new staff member,
DogToon64
! Next up is Hi Hi Puffy AmiYumi: The Genie & the Amp as well as Klonoa Beach Volleyball and Tail Concerto from
That one bruh196
,
PaddyMc
brings us The Simpsons, Chicken Little, and Jimmy Neutron, too. Meanwhile, we get a few Mario-themed Superstar Baseballs by
Geno Penguin
and
JJ314
, Roblox from
thatmusicweeb
, and then finally to round off the shout-outs,
ColdPotatoSoup
brings in some Looney Tunes: Acme Arsenal.
There's also a few more things I didn't mention, so take your time browsing them all, and have fun! See y'all right back here next month!
3DS Textures: 6
DS / DSi Textures: 2
GameCube Textures: 5
Mobile Textures: 2
PC / Computer Textures: 17
PlayStation Textures: 3
PSP Textures: 5
Wii Textures: 4
Xbox Textures: 2