Calling all Pumpkins

(0)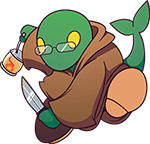 Hey, sprite fans! Another week, another--
Wait, why is everything purple?
Huh. Looks like I'm updating Textures this week. That's never happened before. Well, it can't be THAT different from TSR, right?
*ahem*
This time we've got some great stuff for you all to check out! Loads of GTA3, Roblox, Need for Speed, andsome one-offs from several other games. Be sure to give them a peek!
Enjoy the new stuff, and we'll see you here next time!
Hey, that wasn't so bad.