Four times the update, four times the fun!

(0)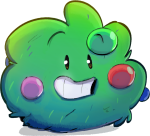 Howdy! RTB here again, climbing out from under the rock I've been living under to bring you not one, not two, not five, but four updates at once! (Check The Spriters/Models/Sounds Resource, too!)
It's nice to have a hefty update on The Textures Resource again, this one's chock-full of Animal Crossing, MySims, Nintendogs, Nascar and Minecraft, with a couple of other additions thrown in for good measure.
Until next time!